My Intro to Ice Fishing: Part 2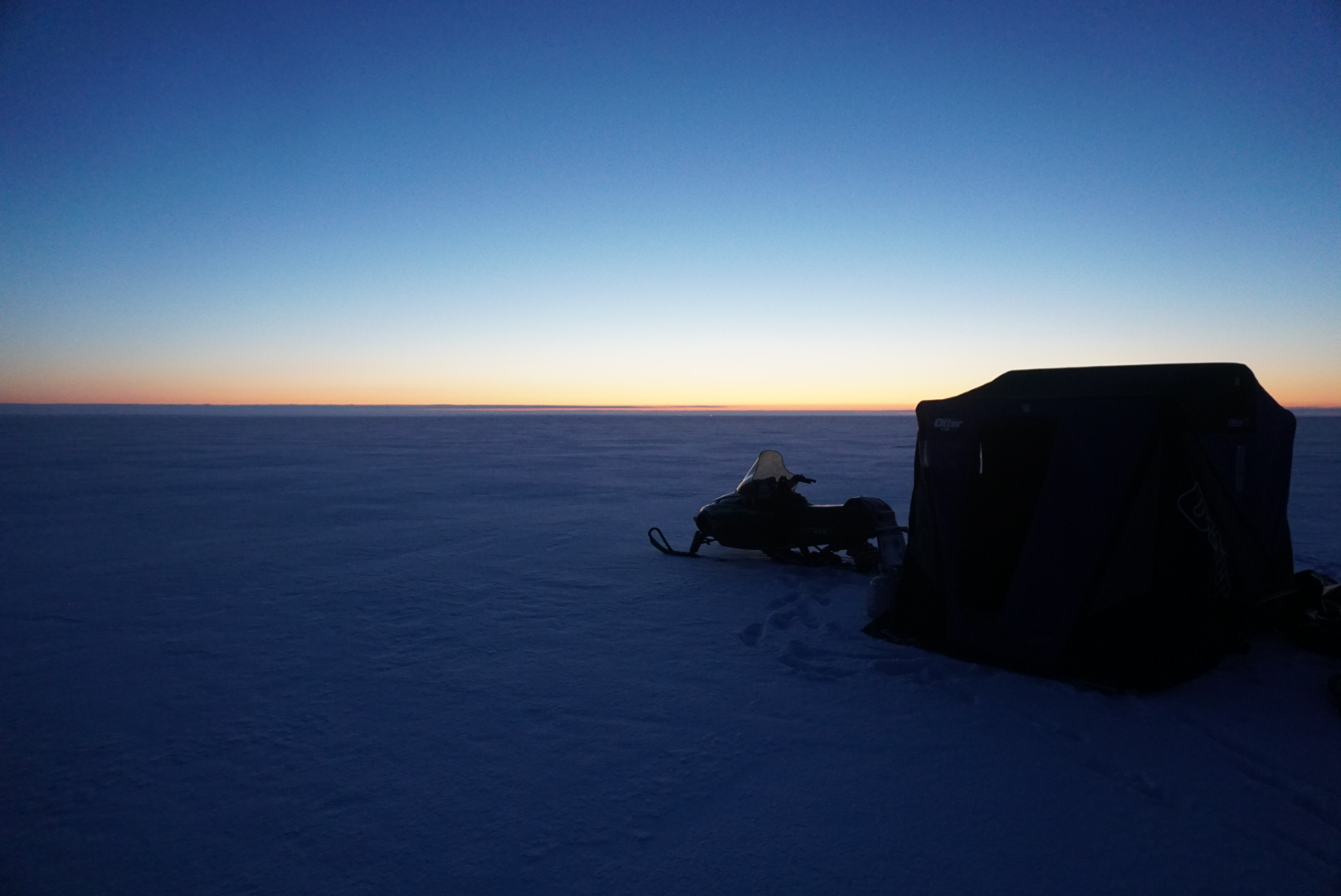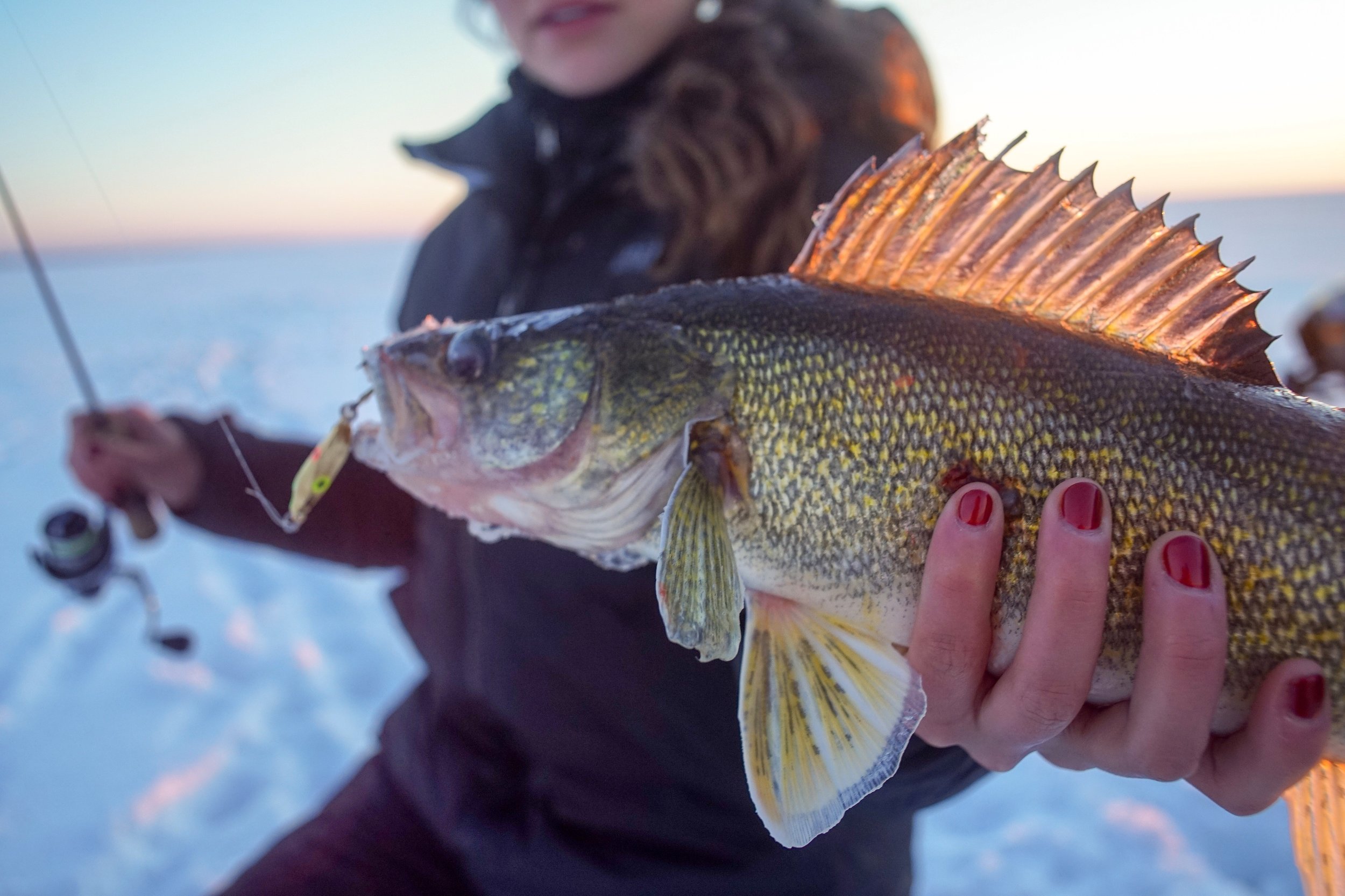 This is called "Part Two" because there was a "Part One." So if you didn't read that yet, do :)
In my last post, I left off trying to place ice fishing for panfish with the other kinds of fishing I am more accustomed to: typically sport fishing for large and elusive predators. I wondered if sitting on a comfy chair in an ice house reeling in "small" fish after fish could ever compare to the thrill of working my tail off all weekend long to maybe, just maybe, be rewarded with one true giant. In my last post, I spent a short evening on a lake near my hometown catching crappies, and though I enjoyed it, I was more of a tourist than an active participant. I missed the feeling of earning my catch. In this post I'll be exploring the full day I spent on Mille Lacs Lake two days later, and the many things I learned that day on the ice.
___
A 4:15 a.m. wakeup call is not typically easy. Especially when it's following a late dinner downtown with a girlfriend. And when the Weather.com app on your phone tells you the air temperature outside is 6 degrees Fahrenheit. But on this particular day, when my alarm sounded through the darkness of my bedroom at that ungodly hour, I woke full of energy. Today I'd be ice fishing! Today promised adventure, nature, and hopefully some big, fat walleyes. I quickly brushed my teeth and threw on my base layers. I grabbed my duffel of gear and hopped into my car. I'd be meeting my partner Mav at his house, and from there we'd carpool north.
When we departed the Twin Cities around 5:00 a.m. for the nearly two-hour drive to the far side of Mille Lacs Lake, it felt like the dead of night. The windows on every building and every house were dark, the snowy roads devoid of life. The sky was a palpable black except the freckling of stars that only multiplied as we drove north.
It was still dark when we finally arrived at the launch around 7:00 a.m, but the stars had disappeared and the sky had softened with morning's first touch of light. The snow crunched under my boots as I stepped out of the car. The 130,000-acre Mille Lacs lurked before us like a shadow: vast, dark and powerful. A sheet of navy blue ice reaching to the horizon, a sharp wind slicing its way across all that open air. The beauty and the enormity were staggering.
I quickly layered up, and under the light of headlamps, we began transferring our gear from the car to the folded-up ice house attached to the back of the snowmobile. Rod locker, heater, fish finder, auger, tackle, camera case, other camera case, camp stove, food, drinks, extra layers, more food.
Packed and ready, we climbed aboard the sled and started our way across the lake. As we tore over the ice, a line of light began to burn along the horizon, wedging itself between the dark lake and the dark sky. First deep red, then yellow as the sun neared its rise.
When we reached our spot, I ran a few laps around our area - partly to keep warm, but mostly out of giddiness for the wonderment I felt toward our surroundings. I felt intrepid. It was as though we were at the North Pole. Nothing but snow and ice and a smoldering sunrise. The only footprints, our own. I ran until I slipped on an unexpected slick patch, and where I fell, I made a snow angel.
But it was prime fishing time.
___
My goal for this day was to learn, and learn I did. I learned how to set up the ice house, and together Mav and I got it ready in under a minute. Wanting to enjoy the beauty of the early morning, we decided to fish outside for as long as we could stand the cold. I learned how to auger and made several holes where instructed. I learned how to clear the area of excess snow and how to scoop the floating ice out of each hole.
Mav set up the fish finder, and we immediately saw signs of life about 18 feet beneath us. I learned how to set up a walleye jig, and I quickly dropped my line into the water.
Within ten minutes I felt a nibble and successfully hooked up to the first walleye of the day. Immediately, I knew it was larger than the baby crappies I had caught two nights before. I reeled steadily, and with a little bit of finesse, I guided my first winter walleye through the ice. Eighteen inches. Not amazing, not bad.
I removed my gloves and we took a couple photos before releasing him back into the water. I learned that winter fish are as cold as you might expect. In the minute or two my hands had been exposed to the icy wind and frigid fish, they had turned pink and stiff. My skin burned as I tenderly slid my hands back into my gloves. I noticed then that my face was burning too, my hair frosted, my eyes streaming in the wind.
"Time to go in?" Mav asked.
"Yep."
We warmed up in the ice house and spent the morning hooking some more fish in the upper teens. I learned how to better read when they are about to hit, and how better handle them when they do.
I learned how to bait a minnow and set up a bobber, how to check periodically that the bobber is not frozen in place. I learned that time of day matters just as much in walleye fishing as it does in musky fishing, as we went several hours around midday without seeing a thing. We packed up shop and moved locations a couple times, and we got even faster at taking down and setting up our gear. I learned that on a sunshiny day like ours, the walleye often prefer to swim deeper.
I learned I enjoy having to step out into the frigid air to brave the elements. I like saying, "No, I'm okay," when asked if I'm too cold. Or maybe I knew that…but anyway. I learned that beer tastes good on the lake no matter the season, and nothing warms an empty stomach quite like hot camp-stove chili.
I learned that in some spots the water looks darker, bluer. But in others, the water and its surrounding circle of ice glow an ethereal green. I learned that no matter how cold I know it will feel, I will always stick my hand through the hole and into the water, just to feel it, because I will always be a curious little kid. I learned that in late afternoon, yellow light beams through the frosty ice-house windows. And at sunset, the same windows become a Jackson Pollock of broken purple and orange shining through the ice crystals.
I learned that sometimes the big boys come out at night, and I got to see Mav land a 27-incher right as we were about to leave. I learned that when your parter hooks up, you better be ready, because they come in groups and you're about to feel some tension. And if you have your drag dialed too tight, you're bound to lose the biggest fish of the day. That one I learned the hard way.
More than anything, I learned that I have a lot more to learn. And I learned that I can't really compare ice fishing for walleyes to fishing big, elusive sport fish. Ice fishing has its own set of challenges. It delivers a unique kind of adventure that can only be known in the rugged depths of winter. It requires its own kind of grit, and it offers its own kind of gratification. I learned ice fishermen are in fact my kind of crazy. And I learned I like ice fishing.